Past Concerts
View a different season:
---
NEC-FSSGB Library Open House
Friday, September 16, 7pm
New England Conservatory, 290 Huntington Avenue, Boston
Free

In celebration of the new Folk Song Society of Greater Boston Collection at the New England Conservatory, an Open House reception is being planned for Friday, Sept. 16 at 7 p.m. Please join us!
---
Len Graham and Brian Ó hAirt House Concert
Sunday, October 23, 2016, 2pm
(note early start time!)
Cambridge, MA
General admission: $20
$5 for students
Reservations required
: email
HouseConcerts@fssgb.org
for
reservations and directions.
The music of Len Graham and Brian Ó hAirt, singers whose decade-old friendship bridges a generation or two, captures the magic of Irish traditional music in "The Raw Bar".
Len, one of Ireland's most renowned singers, has gained an international reputation, not only for his inimitable singing style but also for his comprehensive knowledge of Irish folk music.
Brian, an American-born singer, continues to gather repute for his ability to share the collective mind of an older generation with an intimate insight, gained in his youth, into Ireland's singing traditions.
Their personal styles reflect origins from greatly disparate regions, Graham's ballads from northeastern Ulster, and Ó hAirt's lyrical sean-nós from the Irish-speaking regions of the West. Yet, through many seasons of collaboration, the two have distilled the best of these into a performance that weaves stories, songs, tunes and dance into "the one tradition." This is not a tradition that lends itself to the uninhibited humoring of a song, as mutual trust and attention are required to integrate two voices into one, especially the distinct vocal timbres of Graham and Ó hAirt.
---
Larry Kaplan House Concert
Saturday, October 29, 2016, 8pm
Newton Corner, MA
General admission: $20
$5 for students
Reservations required
: email
HouseConcerts@fssgb.org
for
reservations and directions.
Larry's songs are truly ballads, or stories told in song. Most give us thoughtful stories of real people, their "good times and hard times", and the way they manage to deal with whatever they are dealt. But they are also beautiful songs, often deeply moving and highly singable.
Larry is a keen and sympathetic observer of the human condition. He cares deeply and writes eloquently about the concerns of others, reflecting his profound respect for the farmers, fishermen, and the other hard working people of New England, from the hills of Vermont, to the Maine coast, and the Connecticut shoreline. But these are not merely "regional" songs. Larry's themes address topics of concern to all of us who care about those with whom we share this planet.
Originally from Boston, Larry spent many of his formative years in Maine. He helped restore, then crewed on the Schooner Bowdoin up there. He spent some time as a night clerk in a New Orleans hotel and met his wife, Nora, one evening when he was singing in a Providence coffeehouse while doing further graduate work at Brown. It was during those years that he got to know Gale and Mildred Huntington out on Martha's Vineyard, a friendship that is expressed in several of his best-known songs, including "Old Zeb" and "Song for Gale".
---
Jeff Warner and Alex Cumming
Friday, November 18, 2016, 8pm
Chestnut Hill (Newton), MA
Send email to
HouseConcerts@fssgb.org
to make a reservation.
All tickets are $20, and must be reserved in advance by sending email to
HouseConcerts@fssgb.org
.
Jeff Warner is among the nation's foremost performer/interpreters of traditional music. His songs from the lumber camps, fishing villages and mountain tops of America connect 21st century audiences with the everyday lives–and artistry–of 19th century Americans. "Providing more than just rich entertainment, Jeff will leave you with a deeper appreciation of the land you live in" (Caffé Lena, Saratoga, NY). His songs, rich in local history and a sense of place, bring us the latest news from the distant past.
Jeff grew up listening to the songs and stories of his father Frank Warner and the traditional singers his parents met during their folksong collecting trips through rural America. He accompanied his parents on their later field trips and is the editor of his mother's book, Traditional American Folk Songs: From the Anne and Frank Warner Collection. He is producer of the two-CD set, Her Bright Smile Haunts Me Still, the Warners' recordings of rural singers, many of them born in Victorian times. "The scion of one of the nation's most eminent families of folksong collectors, he represents a tradition that is fundamentally unbroken since preindustrial times" (Stuart Frank, Senior Curator, New Bedford Whaling Museum).
Jeff has performed widely, from large festivals in the UK, to clubs, festivals and schools across America. He plays concertina, banjo, guitar and several "pocket" instruments, including bones and spoons. And "he inhabits a song in a way which few singers can do" (Royal Oak Folk Club, Lewes, UK).
Alex Cumming started to learn Piano Accordion when he was 6 years old and has now become a regular on the English folk scene as an Accordionist, Singer and Ceilidh Caller. As well as performing with Nicola Beazley, Alex performs and records with vocal quartet, The Teacups, BBC Folk Award Nominee Ange Hardy, up and coming band KARA and ceilidh band Dyer:Cumming's. Alex has performed across the country at many top festivals, folk clubs and venues as well as appearing on BBCs Edwardian Farm, BBC Radio 2, and hosting his own folk show on Newcastle Student Radio which is now a regular podcast. (www.folkpod.org)
---
Pub Carol Sing
Start your holiday season with Boston's favorite Christmas tradition - the annual Pub Carol Sing!
Sunday, December 4, 2016, 2-5 pm
in the back room at Doyle's Cafe
3484 Washington St.
Jamaica Plain, MA

Sponsored by the Folk Song Society of Greater Boston
and The West Gallery Quire.
Come and sing Carols from the Sheffield, West Gallery, and Sacred Harp traditions (as well as some standard favorites), led by Bruce Randall of The West Gallery Quire.
With special guests, The Paper Bag Mummers, providing merriment and mayhem!
Suitable for all voices and melodic instruments. Music will be available.
Free! (but we will pass the hat for the waitress)
Contact Bruce Randall (melismata@hotmail.com) for more information.
---
Thomas McCarthy House Concert
Thursday, January 5, 2017, 8pm
Roslindale, MA
General admission: $20
$5 for students
Reservations required
: email
HouseConcerts@fssgb.org
for
reservations and directions.
Thomas McCarthy comes from Birr in County Offaly in Ireland. His family settled there generations ago. He is an Irish Traveller, and comes from a long line of old traditional singers and musicians who kept the tradition of singing strong.
For the most part, McCarthy sings unaccompanied, with a lyrical vocal ornamentation that's unique to the Irish Traveller tradition. It has been compared to sean nos ("old-style") Irish singing, a term McCarthy only discovered recently. "My mother and grandfather all sang like that. With a twist in their voice, an up and down. It's always been there," he says. "Some people will tell you that style of singing isn't meant for our ears," he adds, suggesting that such oral ornamentation was originally developed by singers at the court of the kings of old Ireland.
McCarthy's repertoire – he reckons he knows around 200 songs, with many more scattered among family members – ranges across the centuries. The Battle of Aherlow is about pitching up against the Normans in Tipperary in 1190; Clasped to the Pig, a comic song about the perilous joys of drunkenness, dates from the 18th century; his grandfather's songs from the 1940s evoke the Travelling way of life just as it was dying out.
These days he is based in West London but regularly goes back home to Ireland. He continues singing the old songs himself, and finds great comfort in them and in continuing the tradition which he is passing to his niece and nephew, who are fine little singers.
---
Annual FSSGB Members' Concert
Saturday, February 4, 2017, 7:30pm
Doors open at 7pm
First Parish of Watertown
35 Church Street, Watertown
$12.00 general admission, $10.00 FSSGB members and students
All children 17 and under free
(
See map and calculate directions on MapQuest
)
For public transportation, check
the MBTA web site.
This venue is handicap accessible
Purchase tickets online at BrownPaperTickets.com. Tickets can also be purchased at the door.
The annual FSSGB members' concert is always a popular event. Our members perform songs which range from traditional ballads to original compositions, and from instrumental to a cappella pieces. Some of the instruments that have been played at this concert in the past include violin, cello, banjo, mandolin, guitar, bass, keyboard and concertina. Some FSSGB members who have performed at this event have gone on to have successful performing careers, such as Elijah Wald, Mark Ryer, Fool's Errand and Merle Roesler.
Our hosts will be Ellen Schmidt and Paul Beck. They are talented performers who play out regularly, often accompanied by fellow FSSGB members.
Members are invited to sign up to perform - one song or a spoken word piece. You may perform alone or with others. Some performers have been participating for years; others will do so for the first time. Children are most welcome. The program will feature professional musicians as well as living room folk enthusiasts. All are welcome. The Midweek Singers are an important part of the program as are the many members who show up especially for this event. The audience is always supportive and lively.
FSSGB members (including new members!) are welcome to sign up to perform one song or spoken word piece. Contact Ellen Schmidt at eschmidt01742@gmail.com to sign up by January 25.
Proceeds from this show help keep the Society strong - we thank the performers and the audience for making this event possible.
Click here to hear some recordings done by our talented members!
---
Tyler Hughes and Sam Gleaves Appalachian Song Workshop and House Concert
Saturday, March 4, 2017
2:30-4:30pm workshop, 8pm concert (come to one or both events!)
$20 each for workshop and concert; $30 to attend both
Newton Corner, MA
Reservations required
: email
HouseConcerts@fssgb.org
for
reservations and directions.
Tyler Hughes and Sam Gleaves are an old time country music duo, performing songs old and new with close harmony singing and accompaniment on clawhammer banjo, guitar, fiddle and autoharp. Tyler and Sam's programs feature fiddle and banjo hoedowns, close mountain harmonies, stories of all kinds, Carter Family-inspired autoharp and guitar, country gospel songs, lonesome ballads & flatfoot dancing. In 2015, Tyler and Sam performed on West Virginia Public Radio's Mountain Stage, Lexington, Kentucky's Red Barn Radio, broadcast on Kentucky Educational Television, and at many other venues throughout the Appalachian region.
Workshop: Experience the wealth of stories-in-song from the Appalachian traditions, exploring longform ballads, old time hymns, light-hearted songs, verses to dance tunes and protest songs. Singers of all experience levels are welcome. Singing will be taught by ear with lyrics provided. In this 2 hour workshop, we will practice unaccompanied singing, discuss the ornamentation and styles used by Appalachian singers and shape songs with accompaniment on guitar, banjo and autoharp. Techniques for memorizing songs and ways to adapt the songs for one's own voice and purposes will be discussed. Participants will learn traditional songs from the repertoire of The Carter Family, Jean Ritchie, Sheila Kay Adams, Texas Gladden, Sarah Ogan Gunning, Buell Kazee and others. Stories about the source singers and their home communities in Central Appalachia will provide context for the music with the majority of class time used for singing.
Tyler Hughes has been representing old time Appalachian music and culture on stages all across the east coast since age twelve. Hailing from Big Stone Gap, Virginia, his music is closely associated with that of the Carter Family, Dock Boggs, and Kate Peters Sturgill, among many others from the region. Tyler earned degrees in Bluegrass, Old Time, and Country Music Studies and Appalachian Studies at East Tennessee State University and during his time there, Tyler performed as a mainstay of the ETSU Old Time Pride Band. Tyler continues to perform as a solo artist and with the Johnson City based Empty Bottle String Band. His recordings include a solo album, WISE COUNTY JAIL, TRAVELIN' MAN with the Empty Bottle Stringband, and he is featured on THE NEW APPALACHIANS, produced by Dave Eggar. Tyler teaches banjo at Mountain Empire Community College and regularly teaches at MECC's annual Mountain Music School summer program. Tyler travels extensively to share his music and he has appeared on PBS' Song of the Mountains, NPR's Mountain Stage, at Jazz at the Lincoln Center, and at the historic Carter Family Fold in Hiltons, Virginia. Traditional musician Rich Kirby says "Tyler plays the music of his native Southwest Virginia with the kind of knowledge, respect, and affection that speaks of a deep understanding of who and where the music came from. With folks like Tyler on the scene, I know our music is in good hands." To learn more about Tyler Hughes, visit http://www.tylerhughesmusic.com.
Born and raised in Wytheville, Virginia, Sam Gleaves performs innovative mountain music with a sense of history. Sam carries on the ballads and dance music he learned from numerous mentors in the Appalachian tradition, including Southwest Virginia barber and multi-instrumentalist Jim Lloyd and Western North Carolina ballad singer and storyteller Sheila Kay Adams. Through his songwriting, Sam tells contemporary stories from Appalachia. Sam's debut record of original songs, titled AIN'T WE BROTHERS, is produced by Cathy Fink and has been featured on National Public Radio, No Depression, Sing Out! and The Bluegrass Situation. Sam earned a degree in Folklore from Berea College and performed for four years with the Berea College Bluegrass Ensemble, directed by Al White. Sam now makes his home in Berea, Kentucky, traveling to perform throughout the eastern U.S., and he has toured in Ireland, Japan, England and Canada. Appalachian novelist Lee Smith has heralded Sam as "the best young songwriter around . . . courageous as hell and country to the bone."
---
Benefit concert with the Old Howard Troupe
Saturday, March 11, 2017, 8pm
Doors open at 7:30pm
First Parish of Watertown
35 Church Street, Watertown
$20.00 general admission
(
See map and calculate directions on MapQuest
)
For public transportation, check
the MBTA web site.
This venue is handicap accessible
The Old Howard Troupe are an extraordinary league of eight veteran artistes devoted to bringing the experience of the Old English Music Hall to your town! Members of the Troupe wear Victorian-style stage costumes typical of the era and perform the hits of the music hall stage, with and without accompaniment. The Troupe includes Lynn Feingold, Anabel Graetz, Jeff Keller, Angela Kessler, Jeremy Kessler, Jean Monroe, Phillip Nimerskern, and Lynn Noel.
Roll up, roll up, hear the entertainment! This is not a dry lecture or a workshop, it's a SHOW! Our vintage ensemble style features some old favorites of the music hall stage: rousing chorus songs, songs that might make you blush, and bittersweet but tender songs that tug at the heartstrings. There's literally something for everyone in our fast-paced and fun performance. Have no fear, our steadfast Chairman will keep things moving along smoothly with his keen wit and saucy comments.
The members of The Old Howard Troupe love to perform in New England's great old music hall stages and smaller church halls that have stages. If you have a hall like this, you should contact us to find out how you can host us in your town. We love to share these songs!
Proceeds from this concert will benefit the First Parish's Helen Robinson Wright fund, which provides assistance for individuals in need.
---
Jim Kweskin House Concert
Thursday, April 27, 2017, 8pm
Chestnut Hill (Newton), MA
General admission: $20
($5 for students)
Reservations required
; email
HouseConcerts@fssgb.org
for
reservations and directions.
Jim Kweskin is probably best known as a singer and bandleader; he is the founder of the Jim Kweskin Jug Band, also known as Jim Kweskin and the Jug Band, with Fritz Richmond, Geoff Muldaur, Bob Siggins and Bruno Wolfe. During the five years they were together, they successfully transformed the sounds of pre-World War II rural music into a springboard for their good-humored performances.
He created one of the bedrock guitar styles of the folk revival, adapting the ragtime-blues fingerpicking of artists like Blind Boy Fuller to the more complex chords of pop and jazz. He has maintained a remarkably consistent musical vision since his jug band days, continuing to explore traditional folk and blues with the sophisticated sensibility of a jazz musician and jazz with the communal simplicity of a folk artist. He has recorded solo ventures, as a member of the U and I band, and with U and I bandmate Samoa Wilson, and continues to perform widely in various formats. In recent years he and Geoff Muldaur have often appeared as a duo, revisiting and expanding on their Jug Band repertoire.
---
Matthew Byrne House Concert
Thursday, May 11, 2017, 8pm
Newton Corner, MA
General admission: $20
$5 for students
Reservations required
: email
HouseConcerts@fssgb.org
for
reservations and directions.
Matthew Byrne was born into a family of Newfoundland music makers and his repertoire is heavily influenced by this unique singing tradition. It is a tradition that thrives on the song - the weaving of a great story with a beautiful melody - and Matthew's music reminds us how satisfying traditional songs can be when stripped down to these basic elements. His live performances offer tasteful and honest interpretations of folk songs delivered with polished guitar work and powerful vocals. His repertoire transcends time and place and offers a collection of traditional songs from both sides of the Atlantic.
Matthew burst onto the trad scene in 2010 with his debut recording "Ballads" - an album that confirmed his status as one the east coast's most authentic and vital traditional voices. Since then, Matthew's music has traveled well beyond the rugged shores of his homeland. His role as singer and song-finder in The Dardanelles has brought him to many major international stages throughout around the globe including the Winnipeg Folk Festival, Celtic Connections in Glasgow, UK, and The Woodford Folk Festival in Queensland, Australia.
Matthew is currently promoting his second solo offering - Hearts & Heroes, an album that brilliantly showcases his musical growth as a traditional singer and guitar player since his debut album, and asserts a new level of musicianship and a skill with interpreting traditional songs. The influence of four years with a powerful and rhythmic trad group is evident in many places throughout this recording. Songs like "Bold Nelson" and "McAlpine's Crew" showcase a thicker band sound and balance beautifully alongside the stark, stripped-down arrangements on the record. Each song is a captivating story delivered with a powerful voice and masterful guitar playing. Hearts & Heroes is available in stores and online.
Take a moment to read this article about him, and watch the video. If you're not familiar with him, this should convince you that you don't want to miss this concert! Matthew Byrne on VerbNews
---
Sally Rogers and Claudia Schmidt
Saturday, May 20, 2017, 8pm
Doors open at 7:30pm
First Parish of Watertown
35 Church Street, Watertown
$20.00 general admission, $15.00 FSSGB members and students
All children 17 and under free
(
See map and calculate directions on MapQuest
)
For public transportation, check
the MBTA web site.
This venue is handicap accessible
Purchase tickets online at BrownPaperTickets.com. Tickets can also be purchased at the door.
Sally Rogers is a remarkably accomplished musician, songwriter, storyteller, and educator. Over her career she has recorded more than a dozen albums and has established herself as a preeminent voice in folk music. Noted for her command of guitar and mountain dulcimer, she also takes turns on a variety of instruments including banjo and harmonium. Rogers has toured extensively, performing as well as teaching workshops with adults and children. She has also appeared on A Priairie Home Companion and Mountain Stage as well as a favorite at folk and storytelling festivals. "She is one of our best traditional singers...her voice strong and gorgeous, her feet firmly planted in tradition, her vision urgent and clear." - The Boston Globe.
Claudia Schmidt has been perfecting her craft of performing for almost four decades. It is a quirky and wonderful hodge-podge (her word!) of music, poetry, story, laughter. drama, and celebrating the moment. Work in clubs, theaters, festivals, TV, radio has added depth and dimension, and since she has always included her original work along with very personal versions of the work of others, what you get is a unique look at the world from someone who says what she sees with clarity, humor, and wonder. The San Francisco Bay Guardian said: Schmidt's shows are a lot like falling in love. You never know what's going to happen next, chances are it's going to be wonderful, every moment is burned into your memory and you know you'll never be the same again." More succinctly, Garrison Keiilor said "when Claudia sings a song, it stays sung".
When Claudia and Sally perform together they have a magic that delights listeners. Join us for rollicking good time!
---
Tom Lewis House Concert
Saturday, June 3, 2017, 8pm
Waltham, MA
General admission: $20
$5 for students
Reservations required
: email
HouseConcerts@fssgb.org
for
reservations and directions.
As winner of the inaugural "Trophée Stan Hugill", French fans dub Tom "The Springsteen of Sea Chanteys". Old Songs Festival (Altamont NY) declares "This man knows the sea ... from the bottom up!", whilst Living Tradition (UK) says "Although I always knew he was good, I was not quite prepared for HOW good." 24 years in the British Royal Navy, "provides him with that vitally authentic stance with which to tackle nautical song" Living Tradition.
Tom's repertoire—from traditional shanties to songs fashioned out of his own seafaring background—recruits his audience for a voyage by turns reflective, dramatic and humorous. Born in Northern Ireland, Tom's Celtic heritage is obvious in his clear, strong voice, evoking quiet sorrow for a fisherman lost to the sea just as honestly as it powers out a shanty "to be heard above the gales."
With songs that have become folk standards; known and sung wherever great choruses ring out; Tom accompanies himself on button accordion and ukulele—but it's that powerful vocal style and infectious humour—that quality of entertaining—which keeps audiences coming back again ... and again.
---
Roaring Forties House Concert
Tuesday, June 13, 2017, 8pm
Waltham, MA
General admission: $20
$5 for students
Reservations required
: email
HouseConcerts@fssgb.org
for
reservations and directions.
In 2013 the Roaring Forties celebrated 25 years of robust singing – revelling in the splendid songs on their latest CD We Made the Steel – but never forgetting their first love – sea shanties and other maritime songs.
Powerful individual singers and 4-6 strong – the group has a formidable repertoire of traditional and trad-style contemporary songs. They have an lengthy list of themes they can sing about: sea shanties, whaling songs, forebitters, work songs, mining songs, union songs, bush songs, songs of Australian history, protest songs, humorous songs, god-bothering songs, drinking songs – you name it!
The Forties are always reinventing themselves, but some things remain constant – the enjoyment they get from singing harmonies and encouraging audience participation.
---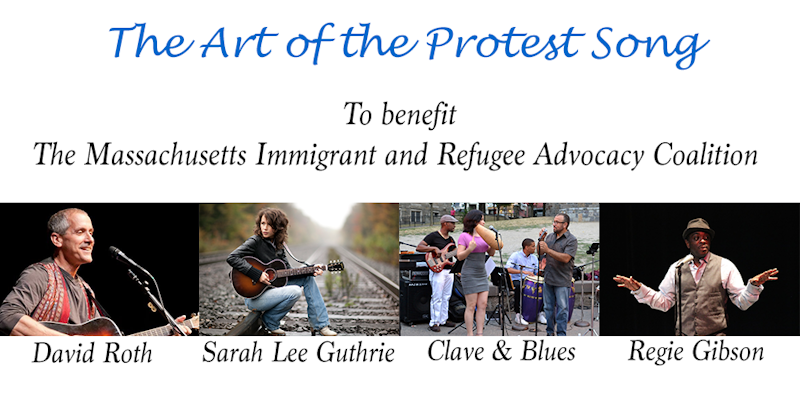 Sunday, July 2, 2017, 7-10pm
The Center for Arts at the Armory
191 Highland Avenue #1c
Somerville, MA 02143
Purchase tickets online at
EventBrite.com
.
Visit the (public)
Facebook event page
Co-sponsored by Boston Area Musicians Take Action and FSSGB
The MIRA Benefit Concert features four musically gifted performers who use their art to illuminate the social justice issues Americans face and inspire us to take action. Featured performers include Sarah Lee Guthrie (an engaging performer whose work helps carry on an historic family tradition), Regie Gibson (a wonderful rap artist and winner of the National Poetry Slam Contest), David Roth (an award winning heart and earth-centered singer/songwriter) and Clave & Blues (a Latino-American salsa band who rythmically perform the freedom music of their heritage).
Brad Hurley and Claire Boucher House Concert
Friday, July 21, 2017, 8pm
Brookline, MA
$20 at the door
$5 for students (only if reserved in advance)
Reservations required; email
HouseConcerts@fssgb.org
for
reservations and directions.
Brad Hurley has been playing traditional Irish music on whistle and wooden flute since the late 1970s, and has performed in dozens of concerts, weddings, dances, theater productions, and festivals in New England and eastern Canada. Brad has taught flute and whistle for many years, and his online guide to the Irish flute is a popular resource among flute players around the world. He currently performs on flute and 12-string guitar in a duo with his partner Claire Boucher, a traditional singer from southwestern Brittany.
Claire is a native of Sarzeau, on the Presqu'Ile de Rhuys in southern Brittany. Her involvement in Breton traditions started with dance, followed by traditional singing. She has participated in a number of singing workshops in Brittany, where she learned from singers such as Jorg Belz, Laurent Jouin, and Charles Quimbert. As a solo singer, Claire has performed at festivals in Québec and the United States.